I is pleased to announce the following packages hot available from the update repository.
First step, type in the console:
# updating repo Update
then
# installing ANY_APPNAME
( example for Razor Qt install: installing razorqt )
Desktop applications:
WindowMaker 0.9.25 (Desktop Environment)

Razor-Qt 0.4.1 (New Light Desktop Environment)

Smplayer 0.7.0 (mplayer2 support) + Mplayer2

Server-based applicatons:
Is the leading Online Collaboration Tool and the top choice for big enterprises, small businesses and teams within and across organizations all over the globe.
A free, open-source PHP web application for producing modular internet-based courses that support a modern social constructionist pedagogy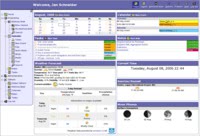 Horde Groupware is a free, enterprise ready, browser based collaboration suite. Users can manage and share calendars, contacts, tasks and notes with the standards compliant components from the Horde Project.
ZoneMinder the top Linux video camera security and surveillance solution. ZoneMinder is intended for use in single or multi-camera video security applications, including commercial or home CCTV, theft prevention and child, family member or home monitoring and other domestic care scenarios such as nanny cam installations. It supports capture, analysis, recording, and monitoring of video data coming from one or more video or network cameras attached to a Linux system. ZoneMinder also support web and semi-automatic control of Pan/Tilt/Zoom cameras using a variety of protocols. It is suitable for use as a DIY home video security system and for commercial or professional video security and surveillance. It can also be integrated into a home automation system via X.10 or other protocols.
And more:
Squid is a proxy server and web cache daemon. It has a wide variety of uses, from speeding up a web server by caching repeated requests; to caching web, DNS and other computer network lookups for a group of people sharing network resources; to aiding security by filtering traffic. Although primarily used for HTTP and FTP, Squid includes limited support for several other protocols including TLS, SSL, Internet Gopher and HTTPS
is an open source, object-oriented web application framework implemented in PHP 5